Review on MarutiSuzuki S-Presso
If there isn't one already there's going to be an uptrend consumers are looking
to purchase extremely affordable automobiles in a time where personal
hygiene is extremely important coupled with a rebuilding economy makes for very
compelling reasons. Now Kia Toyota and Honda are just some
that are geared to answer that call now it would be silly to think that one of
the most celebrated small car manufacturers wouldn't have a response
of their own this is the Suzuki S-presso.
This color doesn't really do much for the car. It's like seeing people in public that wear
face masks that only cover their chin. Luckily there are a lot more vibrant colors available for this
particular unit. So not just silky silver metallic, but granite gray, fire red and
sizzle orange. Now as its name suggests it may be a shock to your system because
it's not your average looking small subcompact. It's got a lot of character
in fact so much so that it may not be everyone's cup of coffee pun intended.
Halogen reflectors indicators that are found more on the center and you've got a
bumper that makes it look like. It stands very much taller. Sadly though there are
no fog lamps, there are provisions so maybe it could be a dealer option and in
a quirky fashion. You'll notice that the radiator intake only occupies about 60%
of the front clip that's because it is all the 1-liter 3-cylinder 67 horse and
90 Newton meter torque engine needs to cool off.
Now it is also mated to a 5-speed manual transmission which is the
only option for the espresso. It shares the same engine with the Celerio but
this entire car is 90 kilos lighter. So for fuel economy inside the city heavy
traffic this thing gets about 11 kilometers per litre which is crazy already.
Suzuki's point was to push the car as high as possible to give it a very tall
stance made evident by the extremely tall wheel wells which housed 14 inch
wheels and 70 series tires but look it's so tall it's like you can fit a family
of cats in there or it looks like you're already in shorts and you're trying to
cross a flood not pretty but at least it looks good on this guy. Now I don't want
to but I will forgive it with its hubcaps because well of its price point
now in total what you get is 180 millimetres of ground clearance
which is just five millimeter side of the Ertiga.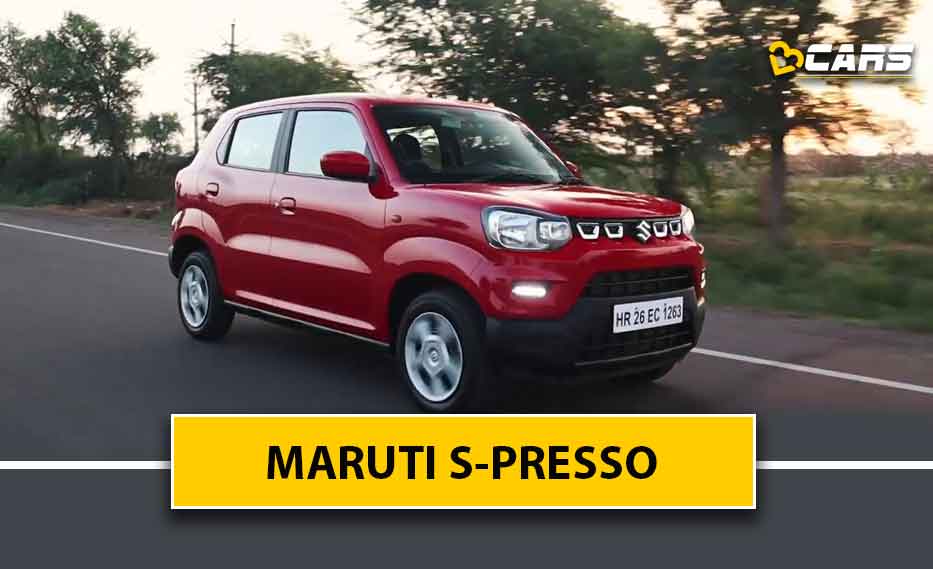 Most shocking factor about this tiny car it's inside that'll
get you this is Jackson behind his old driving position he fits okay. So it was
a tight fit granted. Yes but it was just to demonstrate that Jack who is a tall
person can fit in a petite car like this. I mean the spacing here is so massive
that to a contortionist this thing is like a two-bedroom apartment with
parking nonetheless. Now there are no toys to speak of back here none zip
zilch zero no ball holders, no speakers, no charging points, no vents, no center
armrest not a just one cup holder in the center that it seems like the entire
cabin needs to share. However there is a nice time machine that can be found at
the door.
Kids ask your parents about that but back here what I'm really interested in
is how Suzuki elevated the seats to give us much legroom and Headroom as possible
now granted the elbow room isn't the biggest on the planet maybe one maximum
of two average-sized adults and not much more.
For real comfort but if you need it like I demonstrated Jack will definitely fit
back here I mean there's so much space it's like pulling out space from a magic
hat or Mary Poppins bag you have no idea where it comes from I mean check this
out. Look at the amount of space that's found underneath the driver's seat. I can put
roller skates on it it'll fit down there. That's not basic and durable, not really
the most flattering way to describe an interior of an automobile. But yet it's
true durable appear with the hard plastic basic with the center console basically
doing everything and nothing more of what the car can do for you.
The large screen in the center is a nice touch though you've got a digital speedometer
compact trip computer a 7-inch touchscreen infotainment system grateful
for the power windows up front Elementary air controls a 12 volt socket
and a USB port getting the keys of thiscar away from Earl.
Finding a comfortable driving position might take a little bit of time the
stealing wheel doesn't move. It's in a fixed position and the chairs are
relatively high but the nice thing about that is that you have a view of somewhat
like a seven-seater SUV. You get a clear view of the road the eight pillars don't
bother you that much so you really feel like you're high above like a seven
seater SUV that is until you use the horn it's so tiny.
Most likely geared towards new drivers. This car will not be a problem to drive
it's quick its light its compact. Inside the city won't be a problem the gearbox
is a joy to use. One thing though I do mention if you do
take it out of the city you will notice that the NVH will creep up on you past
65 km/h which actually is a given considering how light this car is and
the echo tires that are on this car so if you treat the car properly for inside
the city driving shielding you from the Sun and the rain and whatnot like I
mentioned you keep it inside the city yeah I don't see it to be a problem at
all especially for the price that you're gonna be paying for this automobile now.
For the more seasoned drivers out there once you do get out on the highway you
see a patch of road you will want to wring every ounce of power that you get
from this. One liter engine you won't get much I mean it's like entering a race.
What it offers may be under par for some
but it doesn't exactly reflect. What it
can represent which is a suit of armor
against the elements and viruses alike
albeit a rudimentary suit of armor one
that is available at five hundred and
eighteen thousand Philippine pesos now.